After the great showing for the "Show and Tell" at the July 2018 meeting, it occured to a few of us that the club members may have projects and accomplishments that have gone unsung!  Please send in a description,  pictures and web links so we can feature your corner of Ham Radio:
KM6KPW (Alan) APRS iGate:  "I've enjoyed this build and I am always thrilled to see a long distance station show up on the console.  So far the farthest station from the north has been from just outside of Reno NV!"  Clicking on the picture will take you to KM6KPW's page for this project.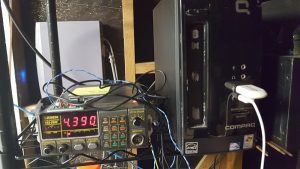 KM6KPW (Alan) A10 Meter Vertical Stick Antenna:  I needed 10 Meter capability but have power lines just behind my property that keep me from putting up a nice big ground plane.  I've been dinking around with horizontal dipole antennas for a while and found this assembly.  Why not put it into a vertical placement and see how it works.  So far I have to say that the response from the tuesday night 10 Meter Net crew is a huge improvement!